Hot Water Pressure Washer Hire
Hot water pressure washers (sometimes called steam cleaners) use electric pumps and diesel fired boilers which force heated water through high pressure lances to easily blast away dirt and cut through grease and grime. Our machines operate in three modes, cold water, hot water and steam. They quickly reach the required working temperature and will maintain a constant temperature for hours on end due to an adjustable thermostat.
100 bar (1500psi) 230v hot water pressure washer
Reference number 616
In our opinion the MAC Avant is the very best 230v hot water pressure washer (steam cleaner) and has been designed for heavy work and originally for the Ministry of Defence !  Higher water flow than most machines available, this steam cleaner can wash plant, machinery, floors, walls, cars and trucks very quickly. Hot water is produced to some 140 degrees centigrade, providing steam for fast degreasing. Mounted on four large wheels,  the MAC weighs over 120 kg so our delivery service is normally required. Runs on 230v mains supply and requires diesel fuel to operate heater. We supply cleaning chemicals on sale or return and diesel fuel is extra.
Please note: This machine must not be used with an extension lead as this will damage the electric motor,  however we can supply up to 30 metres of additional high pressure hose if required and the hose hire rates are detailed below.
1 DAY – £60.00, EXTRA DAY – £90.00, 1 WEEK – £120.00
Accessories for use with hot water pressure washers.
Extra high pressure hose in 10 metre lengths, price per hose
1 DAY – £4.00, EXTRA DAY – £6.00,  WEEK – £8.00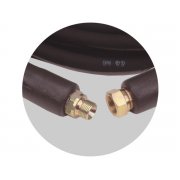 PLEASE NOTE: ALL PRICES QUOTED EXCLUDE VAT & DELIVERY
Hire or buy from us to make your cleaning task easier
Our focus is to supply quality,  innovative cleaning machines and solutions that provide the best possible performance and have a long working life,  with low running costs to make your cleaning task easier, more efficient and more effective. Please do not hesitate to contact us for more information and advice and we will be pleased to help you.  Our shop in Wallingford is packed with a wide selection of cleaning machines,  consumables  and  pure water window cleaning systems for you to see before you hire or buy.