Mobile Sanitising Systems for Hire
Purefast  San-e clean
A new range of environmental cleaning and sanitising spraying systems are available from Purefast including 25 litre,  120 litre and even 400 litre battery powered mobile trolley based sprayers. We also offer van mounted  quick release tanks complete with pumps,  pump controllers and dosing injectors with capacities of 250 litres,  400 litres , 650 litres and 800 litres.
Purefast San-e clean systems are available for hire or for sale and our trolley and van packs use top quality pumps, digital pump controllers, chemical dosing injectors and hose reels with lances. Light weight telescopic poles are available for reaching up to and above 10 metres to allow operators to work safely from the ground. Our van hose reels carry 100 metres of hose giving a useful spraying range of 200 metres around the van.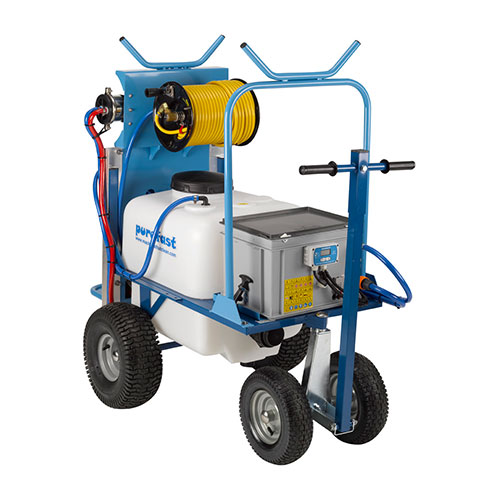 San-e clean 120 and 400 litre trolleys
For larger tasks San-e clean 120 and 400 litre trolleys can support two operators and van mounted systems can support up to 4 operators.
Based on our highly successful Purefast pure water trolley based systems, the San-e clean sanitising systems can apply most sanitising chemicals.  The chemicals are accurately metered using auto compensating dosing injectors. Depending on the task and chemical used the injector can be installed pre or post pump.
We have short lead times and most of our hire equipment is available from stock.  We can install a van pack in less than an hour with no drilling or fabrication required, an ideal solution for hire vans.
Purefast San-e clean systems can be used to apply most sanitising chemicals including  Craftex Microkill,  a revolutionary product that is a CERTIFIED VIRUCIDAL cleaner.  Microkill cleans and sanitises all water washable surfaces including hard surfaces, walls, floors,  doors,  toilets,  washrooms, carpet and upholstery etc. Microkill is bleach free, non hazardous, non toxic and contains a pleasant floral fragrance.
This awesome product kills swine flue, HIV, Hepatitis C, MRSA, Clostridium Difficle (C.Diff) ,  Common food poisoning bacteria and mould,  mildew,  fungi and yeast. On test Microkill passes EN1276, 13704, 14476 and 14675.
Please do not hesitate to contact us on 01491 825600 and we will be pleased to help and provide a quotation for purchase or hire.